Unless you've been hiding in a nuclear bunker for the last month, you'll be aware we have an election coming up. The property market and housing in general have taken their usual share of the headlines, up there with the NHS, education and the economy. But of course the main focus of the election is on Brexit, and whom is best equipped to negotiate our exit from the EU.
With this in mind, we've decided to look at how the housing market has performed under different Prime Ministers' tenures since 1997. The metric we've chosen is average annual housing price growth because it reflects 'heat' in the market at the very highest level. We use a 'crude', unweighted average which simply reflects the differences in the average prices of all properties sold in that time period. It's important to note that the patterns are more about who was in charge during different phases of the economic cycle, rather than which PM was best at making house prices grow.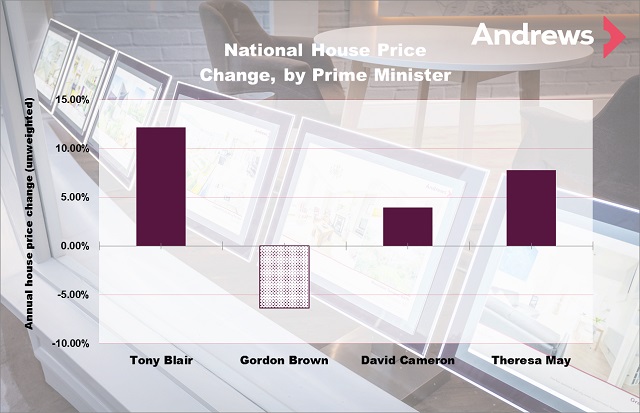 The first thing you'll notice is that the greatest period of growth was under Tony Blair, who was PM from 1997 to 2007. His premiership was marked by strong economic growth and driven principally by the expansion of the financial services industry. The driving factor that really sent house prices soaring was the wide availability of credit, combined with low levels of house building (i.e. low supply and high demand). As a result, average house price growth over the period stood at 12.2 per cent, peaking at 20.9 per cent in 2003.
Tony Blair stepped aside just as things in the economy became gloomy. The period of widely available mortgage finance came to an abrupt end as problems in the secondary mortgage market undermined confidence in the value of mortgage books and the lenders promptly shut up shop. Unfortunately for Gordon Brown, at least in the context of our chart, his tenure from 2007 to 2010 was entirely dominated by the impact of the credit crunch, hence annual house price growth was negative for him. The average for the period was -6.4% but it hit -8.6 per cent in 2009. It's worth remembering though, that Gordon Brown was in charge of the economy as Chancellor of the Exchequer for the entire Blair government, so he should be given some credit for the rampant growth. Or maybe this is negated by the responsibility he bears for the credit crunch?
The Conservative/Liberal Democrat coalition government which followed existed while the economy recovered from the credit crunch, so we can see David Cameron's responsibility for moderately positive house price growth. Annual growth for the period was 4.0 per cent with a peak of 8.2 per cent in 2014. Perhaps more important during this time was the implementation of new mortgage rules (known as MMR) which sought to ensure lenders asked more sensible questions about borrowers' capacity to service the loans they were taking out. Before the credit crunch, caution was thrown to the wind largely because bosses' bonuses were a function of how much they could lend - and risk wasn't properly calculated.
So with the Brexit vote, Cameron was out and Theresa May became Conservative leader, and therefore PM, in July 2016. Because we don't yet have an entire year of house price data for the current PM, we calculated house price inflation in a slightly different way. In any case, it's far too soon to see what her bars will end up looking like. With those caveats, and assuming she's Prime Minister for more than one year, we can see the average house price growth for Theresa May's tenure has been 7.8 per cent.
What happens next will depend on many things, some of which depend on Brexit. But not all. In terms of Brexit, if the exit is disorderly it may create uncertainty which in turn may cause the whole housing market to suffer, if only as a short-term cost for long-term benefits. Counter to this maybe a more global outlook will bring a flood of corporations into the largest cities, leading to greater urbanisation.
But in our view, Brexit is a slight red herring when it comes to predicting the course of the housing market in the next few years. The UK economy is undergoing fundamental changes at the moment, owing to things like an aging population, supply shortage, remote working, wider self-employment and internet based economy. We suspect that an increasing acceptability of working from home part time will lead more people to live further from work, which will open up the commutable housing markets for those seeking more space and cleaner air.
​